This seminar will explore how metadata increasingly underpins all library and archives strategy. The 'right' metadata is the linchpin for everything. Alan will give an insight into his journey from being a bit of a metadata geek to working across a broad spectrum of teams, networks and projects. We will collectively interweave the themes of people, community, networks and political advocacy. Spoiler Alert: he is still a fervid metadata geek!
Thanks to the generosity of seminar attendees last year (our first year), we are able to offer this year's seminars on a "pay what you can" basis. This means that if you can't afford CPD at the moment, you can come for free - no questions asked. If you can afford to pay £6 or £12, we'll use your money to pay for next year's seminars, and so on and so forth into the future.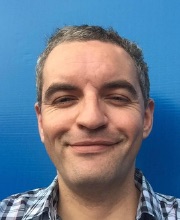 Speaker: Alan Vaughan Hughes
Alan Vaughan Hughes is Head of Special Collections and Archives at Cardiff University. He began his professional career at the National Library of Wales, holding various roles including Metadata Officer on its first digitisation project, Project Manager of Welsh Newspapers Online, and Head of Access and Public Programmes. He has recently completed the LIBER Emerging Leaders Programme. He is Vice-Chair of CILIP Cymru Wales and sits on a variety of networks across RLUK, WHELF, GW4 and Archives Wales.
This seminar will be recorded and made available for one month after the event. Participants need not worry though - we'll stop recording before the discussion.